Call opens: 17 October 2017
Call closes: 23 January 2018 (13:00 CET)
THE CALL IS CLOSED.
17 European projects were selected for funding. For further information on the individual projects, please see the page Funded projects (JC 2017).
For projects' main results, check the page Catalogue of Results (JC2017) – Cutting-Edge Forest Technologies and Management Solutions.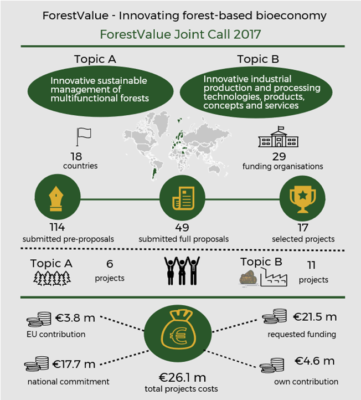 Figure 1. ForestValue Joint Call 2017 – Facts & figures
Aim of the call
The first trans-national call for proposals for research, development and innovation in the forest-based sector within the framework of ForestValue ERA-NET Cofund with a financial commitment from the participating national (or regional) research programmes and the European Union. The overarching aim of the call is to support projects that will address the development and/or proof of concepts on novel strategies, methods, processes or products designed to support the forestry and forest-based industries including their respective partners, resellers, consumers and end-users in remaining competitive and efficient providers of sustainable bio-products and services.
Funding is granted for a maximum of three years according to national regulations.
Procedure
The call was launched ion 17 Oct 2017 and in a 2-step submission process 102 eligible pre-proposals (submission deadline 23 Jan 2018) were peer reviewed and ranked by a panel of international experts. Based on the ranking and the available national/regional funding 50 research consortia were invited to submit a full proposal. After peer review and ranking of the full proposals again by a panel of international experts the Call Steering Committee selected 17 research consortia for funding, within the limits of available national/regional funding including EU co-funding.
Links and downloads
ForestValue Call Text (PDF; version 171103 as of 3 Nov 2017; NB! MINECO (ES) funding commitment corrected). The Call Text includes all details among other things of the scope, rules for participation, eligibility, application & assessment, and funding with annexes of evaluation criteria, summary of funding options per participating funding organization, national contacts, and specific national rules.
ForestValue Call Flyer (version 171103), PDF for printing.
ForestValue Call Office
The administration of the call is led by the ForestValue Call Office on behalf of all the funding partners. General enquiries about this call should be addressed to the call office by the email address .
The email address will reach the following persons:
Carina Lemke, Agency for Renewable Resources (FNR)

Mika Kallio, Ministry of Agriculture and Forestry (MMM)
For questions regarding national funding rules and national forms, please consult the Call Text/Annex IV: Specific National Rules. Additional information on national funding rules can be obtained from the contact persons at the participating funding organisations (see Call Text/Annex III: National Contacts).